Published by Mireia in Impresión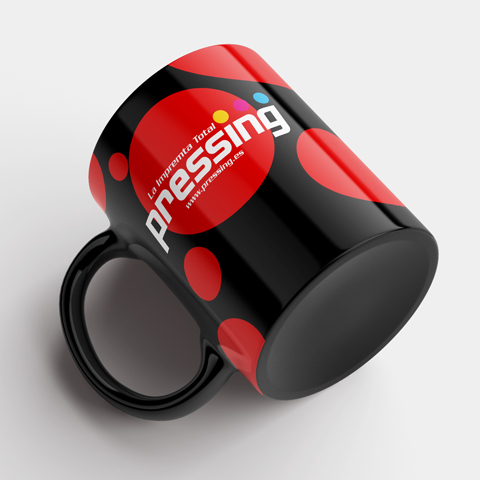 What face would your workers put if, one morning, when they arrive at their table, they find a gift for them? Christmas is coming and that morning could be closer than you think. And that gift, you could print it with us as you imagine. The words of thanks for your workers' effort and commitment to the company are always necessary and we are convinced that you know it. However, it is also true that a small detail can fill the workplace with smiles. Christmas seems like a good opportunity. That's why we offer you three Christmas gift ideas for companies that you can get in Pressing.
A personalized mug: from plastic mugs to a unique and exclusive mug, lasting more than a day and to make the coffee taste better. Create a mug model for your workers that becomes the best ally in the middle of the morning, when the craving for caffeine takes over the workplace. In Pressing we have two models of personalized mugs made with ceramic to make them more resistant and durable. In addition, they are prepared so that they can be put in the microwave or in the dishwasher. High-quality sublimation printing is, also, multicolored, so you can get carried away by creativity when designing the personalized mug for your workers.
The take away mug format is one of the most requested in Pressing since it is original and more modern. In addition, the capacity is higher (420ml), something especially to take into consideration, for example, on Mondays.
If you are one of those bosses who think that the office is better with a little bit of sense of humor, create the funniest mug. What do you think of the "like a boss" message?
The Christmas dinner will be filled with moments not to forget, but also, of flavors. Why do not you remember the dishes on a paper menu? Thus, the workers will be able to save it and when they are hungry for nostalgia, they will only have to rescue it. First course, laughs. Second course, more laughter. And for dessert ... laughs!
If something that is repeated in all the tables are the mouse pads. To get a more orderly and stylish office, you can always customize this product. Thanks to its material, the mouse slides much better and the table is not damaged. Are you thinking about some ideas? From adding the logo of the company to sharing an image of the whole group or even writing a few words so that the workers never run out of motivation. You will get everyone to feel identified and, every time they pick up the computer mouse, they will remember why they like working so much in this place.
This Christmas will be different. Count on us to surprise your workers. You are still in time to place your order, in small and large quantities. We guarantee that the Christmas gifts for business will reach their recipients to realize what you imagine so much: that they run out of words. These are just some of the proposals that we make from Pressing but you already know that we love to listen to your ideas and that, if you can imagine it, we can print it. That's why we are the largest digital press in Barcelona!