Digital Printing
Pressing pionero en impresión digital en Barcelona
Digital Printing advantages
What can we offer to our customers with this digital printing presses?
Digital printing sheet by sheet
We have 2 latest-generation HP Indigo machines (1 x HP Indigo 15K HD and 1 x HP Indigo 7900), and we are the only digital printing company in Spain that has 3 machines in a single installation. We also have to count our last incorporation: the Ricoh Pro C7100X.
We offer the best quality in Indichrome and Pantone colours. Each machine has 7 printing units so as to work, if necessary, with direct inks. They print sheet by sheet and are perfectly adapted to short runs, providing excellent chromatic quality.
This is ideal for jobs which need to be personalised.
We can print on many kinds of substrates, coated paper, laid paper, vinyl, acetate, vegetal, PVC, adhesive, card, kraft, recycled, etc.
No-one else can offer you as much production capacity as we can
HP Indigo 15K HD and 7900
We print with an ink called 'ElectroInk'.
ElectroInk is composed of electrically-charged particles of ink, and gives a result very similar to that of the traditional offset.

Our machines are able to print with Indichrome (6 inks: CMYK (Cyan, Magenta, Yellow and Key) + direct orange and violet), with Pantone® colours and with white ink.

We have in stock a wide variety of papers and substrates to print your jobs without any delay, and in record time.

Ricoh Pro C7100X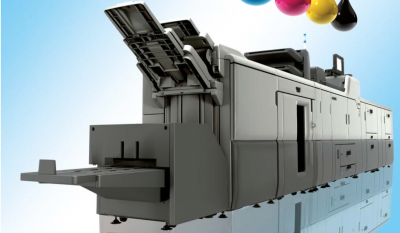 We recently added the new Ricoh Pro C7100x to complement our production centre, a printing equipment that will give to us added value when printing white ink, especially for envelopes and black papers. It is also ideal for printing tickets with watermarks to avoid imitations. Compatibility with a wide range of papers. This new printing equipment has a format of up to 33 cm x 70 cm.