Digital Printing
Digital printing sheet by sheet
We have 3 latest-generation HP Indigo machines (1 x HP Indigo 5500, 1 x HP Indigo 7500, 1 x HP Indigo 10000), and we are the only digital printing company in Spain that has 3 machines in a single installation. We also have to count our last incorporation: the Ricoh Pro C7100X.
We offer the best quality in Indichrome and Pantone colours. Each machine has 7 printing units so as to work, if necessary, with direct inks. They print sheet by sheet and are perfectly adapted to short runs, providing excellent chromatic quality.
This is ideal for jobs which need to be personalised.
We can print on many kinds of substrates, coated paper, laid paper, vinyl, acetate, vegetal, PVC, adhesive, card, kraft, recycled, etc.
No-one else can offer you as much production capacity as we can
HP Indigo
We print with an ink called 'ElectroInk'.
ElectroInk is composed of electrically-charged particles of ink, and gives a result very similar to that of the traditional offset.

Our machines are able to print with Indichrome (6 inks: CMYK (Cyan, Magenta, Yellow and Key) + direct orange and violet), with Pantone® colours and with white ink.

We have in stock a wide variety of papers and substrates to print your jobs without any delay, and in record time.

Digital spool printing
Spool printing allows us to work with formats of paper of non-standard dimensions.

We can also print personalized jobs.

Xeikon 5000 Plus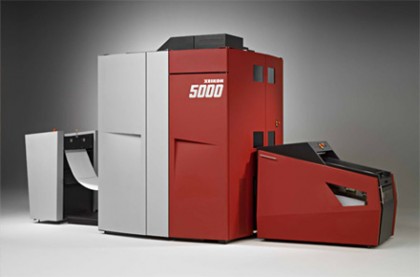 The Xeikon 5000 Plus printer spool prints on 500-mm-wide paper (480-mm printing stain). It has 8 printing units (4 + 4 inks) which print on the two sides of the paper simultaneously, with high quality and in four colours, on papers of 120 g to 350 g, and with true resolution of 1200 dpi.
It enables variable data to be printed, producing versions that are personalized by language and/or by customer segment.
Versatility of formats.
Sheet-by-sheet and spool printing.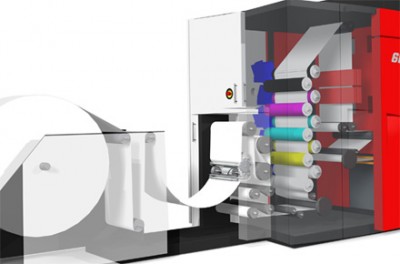 With regard to the environment: the FA toner (the one used in the Xeikon 5000 Plus printer) without solvents, does not produce harmful emissions of VOC (Volatile Organic Components), nor does it contain injurious chemical products.
In addition, these toners are highly 'de-inkable', which ensures that the printed paper can be recycled, a factor which is becoming more and more important.
The speed of the runs makes them particularly suitable for dealing with emergencies.
Ricoh Pro C7100X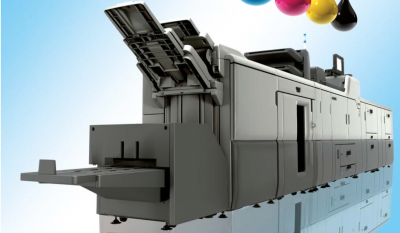 We recently added the new Ricoh Pro C7100x to complement our production centre, a printing equipment that will give to us added value when printing white ink, especially for envelopes and black papers. It is also ideal for printing tickets with watermarks to avoid imitations. Compatibility with a wide range of papers. This new printing equipment has a format of up to 33 cm x 70 cm.
Print equipment

Maximum format (paper)

Supports and weights

Recommended quantities (depending format of the printer)

HP Indigo 5500

33 x 48 cm

All kinds of paper, coated, uncoated, laid, recycled, offset, embossed, pvc, adhesives, etc.

From 80 grs. up to 400 grs.

Up to 1.000 exemplars

HP Indigo 7500

33 x 48 cm

All kinds of paper, coated, uncoated, laid, recycled, offset, embossed, pvc, adhesives, etc.

From 80 grs. up to 400 grs.

Up to 2.000 exemplars

HP Indigo 10000

53 x 75 cm

All kinds of paper, coated, uncoated, laid, recycled, offset, embossed, pvc, adhesives, etc.

From 80 grs. up to 400 grs.

Up to 5.000 exemplars

Ricoh Pro C7100X

33 x 70 cm

All kinds of paper, coated, uncoated, laid, recycled, offset, embossed, pvc, adhesives, envelopes, coloured cardboard, etc.

From 80 grs. up to 360 grs.

Up to 1.000 exemplars

Xeikon 5000 Plus

50 x 400 cm

Papers to choose from a catalogue in reel format.

From 120 grs. up to 350 grs.

Up to 500 exemplars